Ireland must deliver 1GW offshore by 2025 to meet 5GW by 2030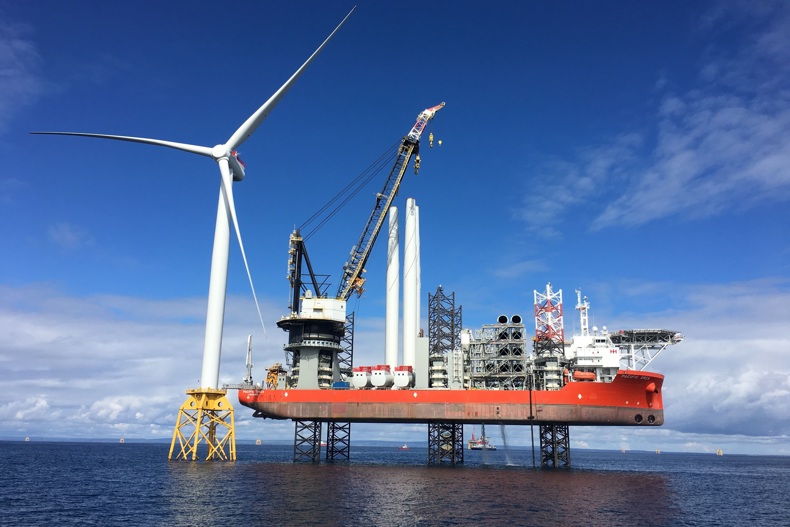 Ireland needs to install 1GW of offshore wind energy capacity by 2025 if it is to meet the new Irish government's target of 5GW of installed offshore wind by 2030, SSE Renewables said today.
Paul Cooley, Director of Capital Projects at SSE Renewables, told today's Energy Ireland 'Offshore Energy Conference' that the new Coalition Government's ambition to deliver an increased 5GW of offshore wind energy off Ireland's eastern and southern coasts by the end of the decade is welcome, but said this new scale must be delivered at pace and with immediate effect if targets are to be met.
Delivery of 1GW of offshore wind energy in the Irish Sea by 2025 will get Ireland on track to meet the new 5GW target. It will also contribute 2 per cent of the Programme for Government's annual 7 per cent reduction in Ireland's overall greenhouse gas emissions between now and 2030. Completion of the 520MW Arklow Bank Wind Park by SSE Renewables in the next five years will itself directly contribute to just over half the 2 per cent reduction in carbon emissions that can be achieved by 2025.
In June 2020 SSE Renewables selected Arklow Harbour on Ireland's East Coast as the preferred location for the Operations and Maintenance Base for Arklow Bank Wind Park, which will be home to 80 full-time employees once the project enters operation.
SSE Renewables' Paul Cooley said:
"The new Government's commitment to increased offshore wind energy ambition by 2030 is welcome but if Ireland is going to deliver 5GW of installed offshore capacity by the end of the decade, then Ireland needs to be delivering 1GW of new offshore wind by 2025 to get us on track.
"Installing operational offshore wind farms in the Irish Sea by the middle of the decade and within the lifetime of this Government will be vital in maintaining the momentum for offshore wind energy initiated by last year's Climate Action Plan and further committed to in the new Coalition's Programme for Government. This is especially crucial if we are to establish an offshore wind energy industry in Ireland, including the development of an indigenous, job-creating supply chain."
Paul Cooley said international market confidence in Ireland's readiness to exploit offshore wind energy will be undermined by any perceived lack of urgency in developing the emerging energy sector here.
Paul Cooley added:
"Ireland will need to compete in a highly-competitive global offshore energy marketplace if it is going to achieve the country's new 5GW offshore ambition. Action is needed now if we are going to deliver the revolution in renewables promised in the Programme for Government. The commitment in the Programme to a first RESS auction for offshore wind in 2021 is hugely welcome. This auction must be delivered on time alongside the necessary grid connections policy to safeguard developer and market confidence that Ireland is finally open for business for offshore wind energy.
"Government and Industry must collaborate strategically to achieve the new Programme for Government targets, and ensure we gain real momentum in the delivery of new offshore wind capacity by 2025 and 2030. In doing so we can outperform the 5GW target set for 2030, and finally begin exploiting the vast offshore wind resource around our island, establishing Ireland as a European and world leader in offshore wind energy."
SSE Renewables is significantly progressed in plans to develop the next phase of the 520MW Arklow Bank Wind Park. It is targeting a delivery date of 2025 to meet Ireland's interim target of 1GW of offshore wind energy in the same year, as committed to in Ireland's Climate Action Plan. When complete, the wind farm is expected to power around half a million homes each year with green energy, offsetting around 600,000 tonnes of carbon emissions or a 1% reduction in Ireland's annual carbon emissions.