#50000Followers in double social media milestone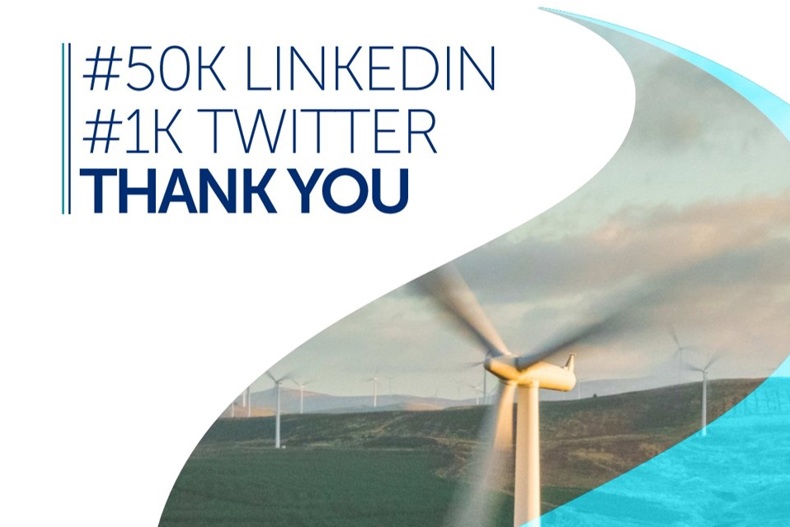 It's a double delight for SSE Renewables today (15 July) as we hit the social media milestones of #50000followers on LinkedIn and #1000followers on Twitter – and all in just a year since we first tweeted and posted on each social media network.
We want to give a big shout out today to everyone who has shared, posted, retweeted, liked, commented or simply viewed any of the posts or tweets that we have published on either our SSE Renewables' Twitter or LinkedIn pages in the last 12 months. Thank you.
We're passionate about the role we play every day in locations across all parts of the UK and Ireland to provide the renewable energy we need today and to build a better world of energy for tomorrow. We are driven every day to do all we can to help the UK and Ireland achieve a cleaner and more resilient economy. Working together with our business partners, with the industry supply chain, with national and regional governments, with communities, and with other stakeholder groups, we're confident that we'll meet our shared net zero ambitions by 2050.
And from what you have been telling us on our social media channels, you share our passion for the opportunity of a greener tomorrow from low carbon energy.
Whether we're sharing the stories of the people who work at our wind farms or hydro plants, introducing you to the teams who are building some of the world's biggest offshore wind farms, or highlighting the hidden heroes in communities across Britain and Ireland who we're proud to support, we're delighted these posts are resonating with so many of you.
If you're not yet following us on either Twitter or LinkedIn, why not come over now to our social network pages, give us a follow, and get involved? We'd love to have you join us on the journey to our next 'big hashtag' milestone.