SSE graduate is empowering refugees through renewables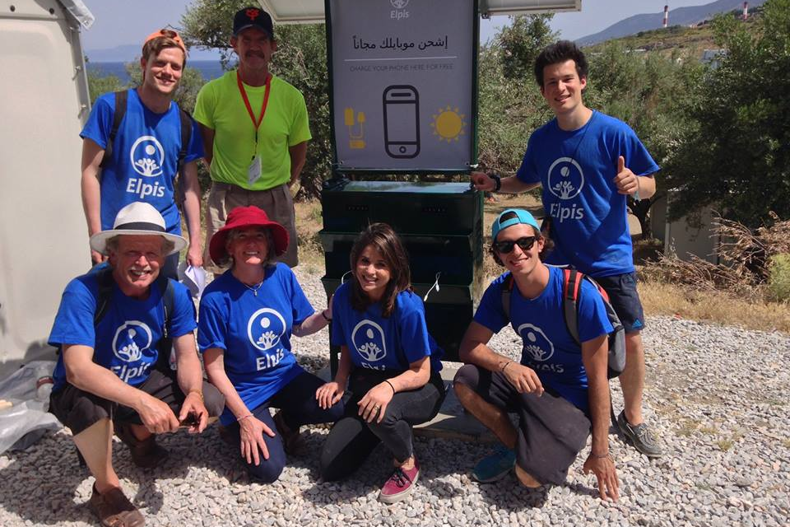 SSE graduate Alex Angelopoulos is making headlines after a social enterprise project he co-founded was picked to receive $10,000 grant from the prestigious MIT Research University.
Alex's Elpis Solar initiative provides solar-powered phone charging stations for refugee camps, here the former Edinburgh University student tells the story of his incredible project.
Q) How did you come-up with the idea for your project?
Being from Greece, where many camps were established, I have experienced the refugee crisis first hand.
In the summer of 2016 I was working on a marine conservation project on the island of Samos as part of my university degree. I was there when the first refugee boats arrived.
During the first few days I was approached by a family of refugees, wanting to use my phone in order to reach relatives to let them know they were safe, whilst others wanted to transfer money or access simple information.
That was when I realised that communication and access to mobile phone charging, something which we take for granted, and is often overlooked by humanitarian aid providers, was a real lifeline for modern refugees.
With my co-founder and classmate Samuel Kellerhals we realised we could design something functional that could address the need of mobile phone charging.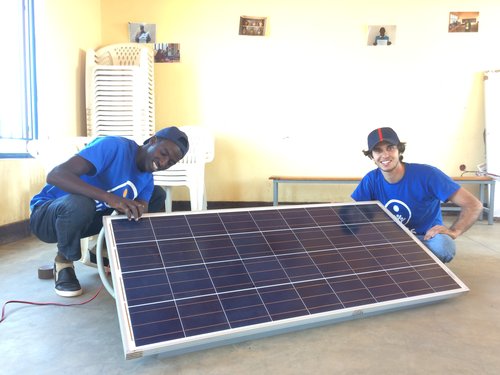 Q) So you had the idea, what happened next?
We came up with a basic design of a solar powered charging station. The challenge we had to face was moving from concept to something which worked and could be deployed urgently.
As an undergraduate university student studying environmental sciences sustainability, renewables and the importance of safeguarding energy safety/security were key elements of my course.
Samuel and I felt the need to act and try to address the refugee crisis in our own way. Putting theory into practice and applying our knowledge and skills together in order to help.
Within five months, by applying to business incubation schemes, receiving grant funding and support from crowdfunding campaigns, and in collaboration with a Greek based environmental technology engineering firm (Entec S.A) we managed to build a working prototype that we could then deploy in real time.
Q) What difference can this project make to the lives of those in refugee camps?
The Elpis unit doesn't just charge phones. We designed a user-friendly offline digital platform where refugees using their mobile phones can access an array of free educational content, legal advice and other useful information by connecting to the Elpis Solar network.
Our Solar Hubs not only served as charging points but also as informational hubs for all ages, genders and demographics, whilst our libraries of e-books provide users with a broad variety of educational resources and the opportunity to upskill.
Q) Where are the units being used now?
We now have more than ten units in operation both in Greece and Rwanda – charging around 35,000 mobile phones a month.
As well as this we have also developed a solar powered water purifier and charger, which provides lighting, mobile phone charging capabilities and a water filtration capacity of 300l per day.
We are also encouraging refugees, and women entrepreneurs in particular to take ownership of our units and run them as solar kiosks. By collecting micropayments for the service they can make a supplementary source of income as well as assist us in covering our operation and management costs.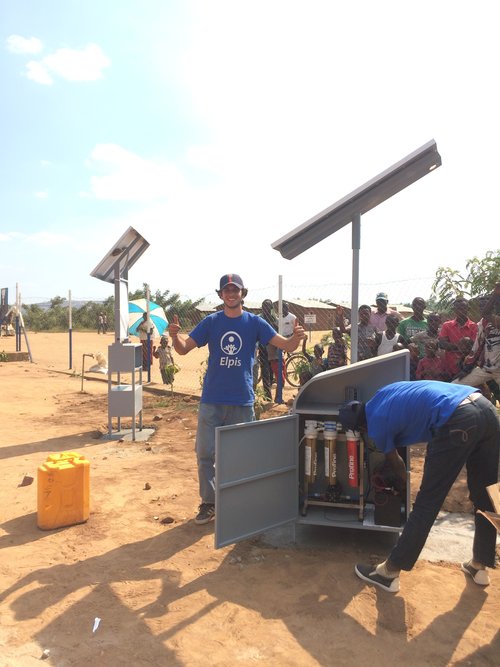 Q) What are your plans for the future?
We have come a long way since our first endeavours. It has been a tremendous learning opportunity. We can now better understand what would improve the needs of the people living in "off-grid" refugee camps. We can use that knowledge with our technical and business models to put resources, the right minds and skills together for the development of low-cost alternatives to the energy crisis experienced in communities worldwide.
Looking ahead, we plan to improve our units by integrating a UV filtration component to our current designs which could increase the daily filtration capacity to almost 2,000L.
We're also forging more partnerships with corporate sponsors and organisations that can assist us both financially and through additional research and development support.
We also have plans to scale up in the summer of 2020 expanding into East Africa, Uganda and Tanzania, with plans to install 12 more devices within the next 12 months.
As well as the MIT funding we also picked up an additional of £25,000 from Andan, a Swiss Foundation who focus on refugee inclusion. As sustainability, Corporate Social Responsibility and climate transparency continue to play a key role for foundations and corporates, we aim to provide them with clear visibility of their funding by monitoring real time the net impact of our operations (I.e. number of litres of water filtered, mobile phones charged, digital content access, as well as carbon saved).
Q) Can you tell us about your role at SSE?
After graduating from Imperial College London, where I studied climate change, finance and management I joined SSE Airtricity in Dublin. As part of a six-month rotational graduate programme I have a fantastic opportunity to develop a well-rounded understanding of the business and its core activities, becoming more commercially aware and further understand energy markets and energy finance. 
Currently, I am working within the Business Energy division, on the commercial side of operations, looking into business KPI indicators, customer lifetime models with the analytics team.
Q) How has the business (SSE) supported you?
From day one, everyone in the office has shown great interest to the project, from my managers and colleagues to the director of our division.
They have all helped spread the word internally, and supported me when preparing for the MIT pitch.
I will also be hosting a presentation about the project internally during a sustainability workshop in the Dublin office.