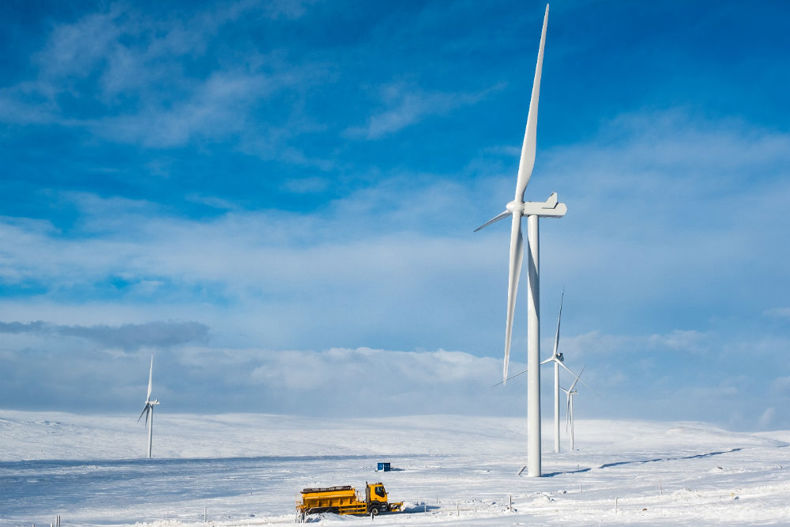 Following yesterday's announcement that Beatrice Offshore Windfarm Limited exported power for the first time, lead developer SSE has today launched its 'A decade of clean growth: SSE's contribution to the onshore wind revolution' report. The report documents the tremendous expansion of SSE's onshore wind portfolio over the past decade and the £3.9bn of value added to the UK and Irish economies thanks to this growth.
Since 2008, SSE has increased its renewable generation capacity significantly, with its onshore wind capacity increasing three-fold to 1,917MW as of June this year. Of SSE's total committed spend in onshore wind, an estimated 66% was, or is expected to be, spent in the UK or Ireland.
This growth in SSE's onshore wind portfolio is:
Delivering clean, low carbon electricity, which in 2017/18 generated enough electricity to supply more than 1.35 million homes in the UK and Ireland and has avoided around 13.4m tonnes CO2e over the ten years;
Estimated to contribute £3.9bn of value added to the UK and Irish economies as a result of the committed spend, including capex and ongoing expenditure up to 2040; and
Supporting an estimated 67,000 years of full-time employment across the UK and Ireland. Much of the employment relating to onshore wind is located in places where economic activity tends to be low.
Over this ten year period, SSE's total overall committed spend associated with its onshore wind farms built and/or operated during this period is estimated to be around £6.1bn. This total includes just under £4bn in capex and investment, as well as ongoing operational expenditure for the lifetime of its projects and the expected decommissioning costs at the end of their life.
Since 2008, SSE has provided more than £23m in community benefit funding in the UK (£21.5m in Great Britain and about £1.5m in Northern Ireland) and more than €5m in Ireland. These funds have supported nearly 5,000 projects in communities across the local and regional areas in which SSE owns and operates its wind farms.
Paul Cooley, SSE's Director of Generation Development said: "We wanted to understand just how our expansion of onshore wind over the past ten years has benefitted the UK and Ireland and this report shows just what a positive impact our onshore wind portfolio has had, not just on the environment and on the economy, but on real people in their real lives.
"At SSE, maximising the social and economic impact of our wind farms is hugely important, especially in rural areas, where long-term skilled jobs and investment can support the long-term viability of remote communities.
"The Industrial Strategy sets out a long-term plan to boost the productivity and earning power of people throughout the UK. It sets out how we are building a Britain fit for the future – and onshore wind should be part of this picture.
"We want to be able to replicate the benefits highlighted in this report for the next decade and beyond, but to do that we need the governments to take action now and develop a supportive framework that addresses the market and planning challenges being faced by the onshore wind industry."
A recent opinion poll by YouGov shows two-thirds of people in Britain think the government should change its current policy of excluding new onshore wind farms from our energy mix.
SSE's new report shows the onshore wind industry has created jobs, supported a growing and indigenous supply chain, stimulated investment in remote areas, reduced carbon emissions and cut costs.
By growing the economy whilst reducing carbon emissions, the report states onshore wind is making a considerable contribution to addressing the clean growth challenge. With a supportive framework, the next ten years could prove at least as fruitful for the industry as the last.
SSE's 'Decade of clean growth' report is available here and methodology document is available here.