Through our Tievenameenta Wind Farm in Killeter, Co. Tyrone we make around £80,000 per year available for local projects promoting energy efficiency and social sustainability through our Community Fund programme.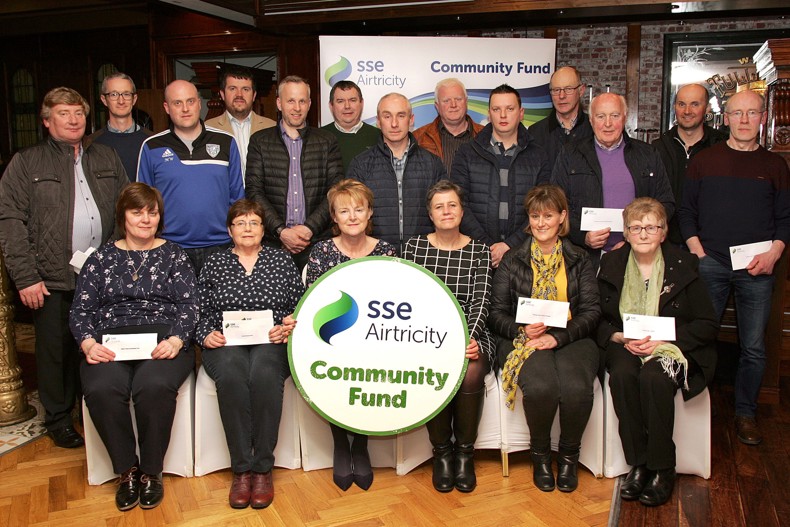 The Tievenameenta Wind Farm Community Fund launched in 2018. So far over £166,000 has been presented to local groups and throughout the expected lifetime of the wind farm, over £2million is likely to be awarded to local projects and groups.
In 2019, £83,000 in funding was provided to 19 community groups based near the wind farm including St. Davogs GFC and Lettercran Hall Committee. St. Davogs GFC are using funding towards replacement external doors for the club house. Kieran McGuire, Development Officer of St. Davogs GFC, said: "Our facility was built in the late 1980s, it is used by a variety of groups between sports, community, schools, youth, and women's groups. We carried out an internal audit and found that our main costs were heating the facility. The energy audit showed we were losing a significant amount of energy through our windows and doors. The wind farm funding will enable us replace the external doors helping us to reduce our heating bills in future."
Lettercran Hall Committee is using this year's contribution towards replacement doors and windows for the hall.
"Through the wind farm funding, combined with some small funding of our own, we replaced the windows and doors at the front of the hall. This year's funding will enable us to replace the remaining windows and complete the project. The new doors and windows will not only help to significantly reduce our energy bills but will make our hall more comfortable for all the community members that use it."

James Hilley, Secretary at Lettercran Hall Committee
In addition to the Community Fund, Tievenameenta Wind Farm also supports a Scholarship Fund for local students from across County Tyrone.
The Community Fund and Scholarship are operated by sister company SSE Airtricity on behalf of SSE Renewables.
Tievenameenta Wind Farm can generate 34MW of clean, green energy combined equivalent to powering approximately 30,000 homes.