POWERING SCOTLAND
AND CREATING JOBS
Scotland needs green manufacturing jobs. And the world needs green energy. So, we're working tirelessly to make it happen.
SSE Renewables is investing in NOW – Nigg Offshore Wind, a new o­ffshore wind turbine tower factory in the Scottish Highlands that will produce the next generation of o­ffshore wind farms to power Scotland and the world – creating hundreds of full-time green jobs.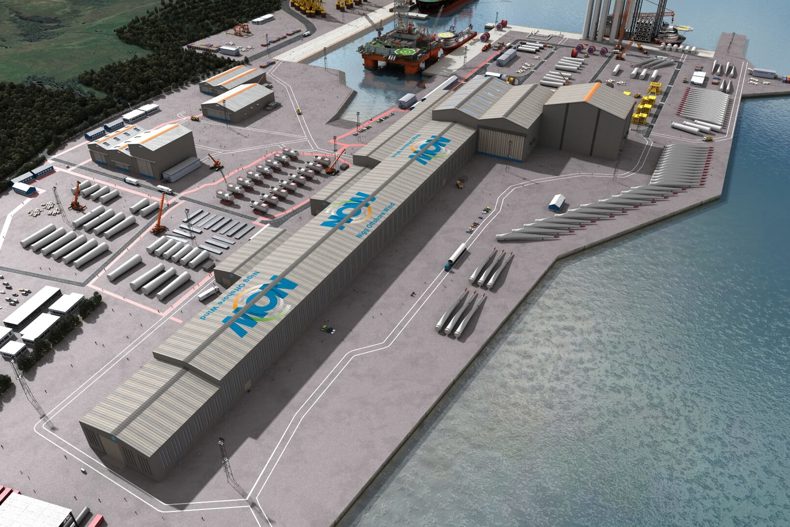 Delivery of our unrivalled pipeline of large-scale UK o­ffshore wind projects is what allows us to invest in NOW, boosting Scotland's renewable energy supply chain and helping reskill local workers. That's creating jobs and powering change.
NOW – Nigg Offshore Wind is the most significant localisation of offshore wind supply chain manufacturing ever seen in Scotland and the UK.
The new state-of-the-art offshore wind turbine tower factory will be built by Global Energy Group and Haizea Wind Group at the Port of Nigg near Inverness at a total investment cost of over £110m, backed by £15m in debt funding from SSE Renewables to make it happen.
It will be a giant, 450-meter-long, 38,000 m2 factory, capable of rolling steel plate to supply towers which will weigh in excess of 1,000 tonnes each, as well as other offshore products. This will make it the UK's largest offshore wind tower manufacturing facility, producing components out of the heart of the Scottish Highlands for projects in the UK and abroad, and ready to compete in a global marketplace.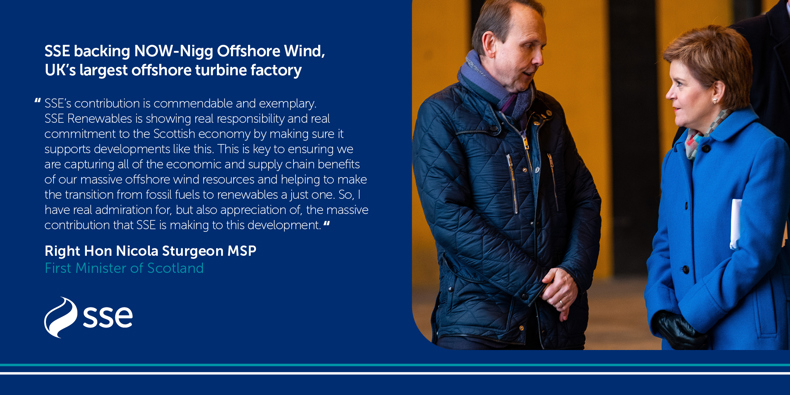 Once operational in 2023, NOW will employ 400 people on a full-time direct basis manufacturing up to 135 towers each year for the next generation of fixed and floating offshore wind turbines. Its activities will support another 1,800 indirect jobs in the Scottish and UK supply chain – helping transform thousands of lives in the region and providing real opportunities for workers to transition from oil and gas to renewables. For us, this is an integral part of the Just Transition.
SSE has played a central role in securing this development. Our substantial, multi-million-pound backing for this tower manufacturing plant makes us the largest single UK backer behind these exciting plans in the Scottish Highlands. And it shows that at SSE, we're willing to put our money where our mouth is to support the development of a competitive Scottish manufacturing supply chain and create local jobs.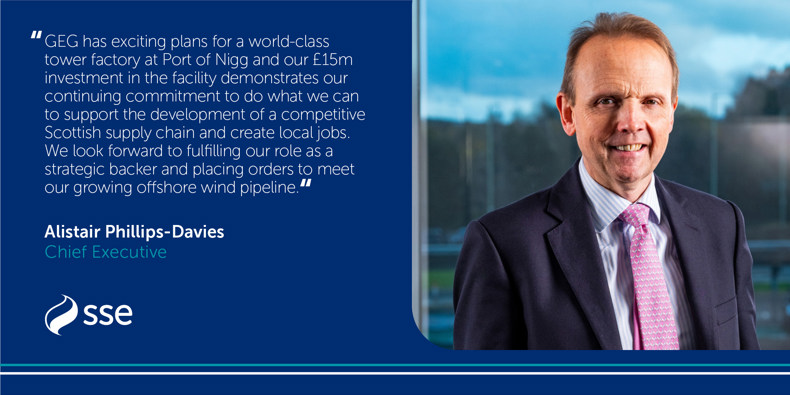 Getting to this point has been two years in the making and it has required immense effort and commitment from everyone involved to ensure we were able to turn a vision into a commercial reality. We've worked night and day with Global Energy Group and with other partners and stakeholders, including the Scottish and UK governments, to get this world-class tower factory at Nigg over the line.
Because we believe that if the UK is truly to be the world leader in offshore wind development, we need to ensure the economic benefits in terms of jobs and investments are felt here at home.
That's why we're committed to bringing more than just £15m of our own debt funding to this project. We intend to fulfil our role as a strategic backer for the facility, placing orders with the factory to meet our growing offshore wind pipeline in the near future.
Because at SSE we're in a unique position to be able to create sustainable long-term supply chain opportunities for the UK's next generation of offshore supply chain hubs, whether that's at Nigg or at GE's new turbine blade factory in Teesside.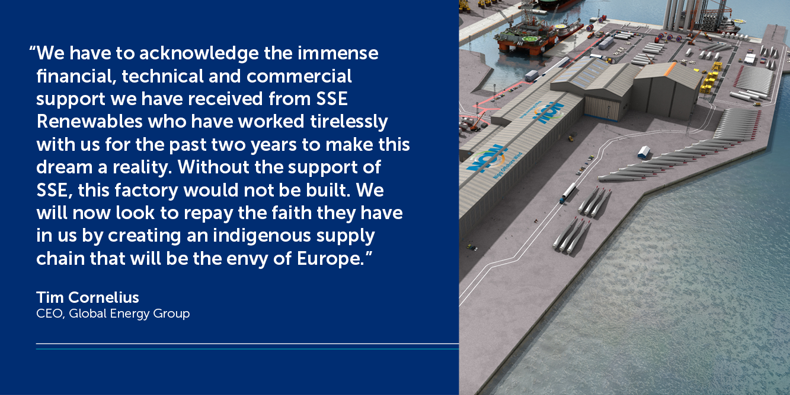 We have the pipeline of offshore wind construction and development projects of scale, such as Dogger Bank and our new super-sized project Berwick Bank, that can create a stronger, greener and more successful UK. Combining that pipeline of scale with our ambition and our clear commitment to power the drive to net zero allows us to commit the investment needed to make an infrastructure project such as Nigg Offshore Wind happen.
And it shows how much can be achieved when developers, governments and supply chains work together with a common purpose.
And we can capitalise on this successful collaboration to deliver a sustainable Scottish and UK supply chain that creates jobs, reskills our workforce for a low carbon future, and maximises the economic benefits both regionally and nationally.
Because, with the creation of NOW in Scotland, we can see what happens when we work together to power change.