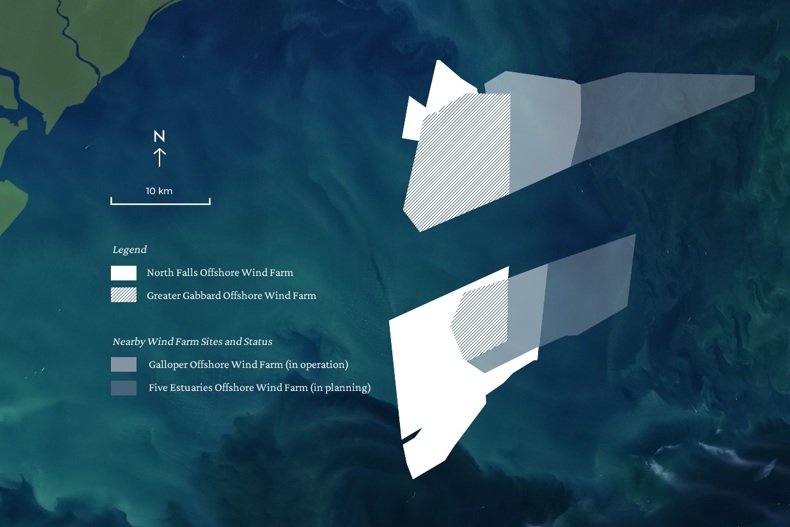 SSE Renewables and RWE Renewables have established a 50:50 equal joint venture company to develop the North Falls Offshore Wind Farm project, an extension to the operational Greater Gabbard Offshore Wind Farm off the coast of England in the southern North Sea.
The two world-leading offshore wind developers signed an Agreement for Lease with UK seabed managers The Crown Estate in September 2020 to extend the existing 504MW wind farm by a further 504MW. The final capacity of the project will be determined during the development and consenting process.
SSE Renewables and RWE Renewables are co-owners of the operational Greater Gabbard wind farm, which SSE Renewables operates on behalf of the partnership.
The project is located around 20 kilometres off the UK coast and is named after the North Falls sandbank located at the southern tip of the proposed site of the wind farm. The project extension is planned for an area of seabed covering a total of 150 km2.
The North Falls Offshore Wind Farm will comprise a number of wind turbines on fixed foundations, plus dedicated offshore and onshore electrical infrastructure.
The Agreement for Lease with The Crown Estate was granted to the joint venture under an extensions application process launched in 2017. The signing of both the joint venture agreement and the Agreement for Lease means the North Falls extension project can now begin detailed development activity including comprehensive onshore and offshore surveys and studies to inform the Environmental Assessment.
The joint venture company comprises staff from both organisations and is led by Project Manager Martin Whyte, who comes to the project with more than 11 years' experience working in the offshore wind sector.
During the coming three years, work will include engineering design, stakeholder consultation and community engagement before the Development Consent Order application is submitted to the Planning Inspectorate.
The North Falls development will build on the expertise and learnings from the original Greater Gabbard project, and other shareholder developments, to ensure best practice and to maximise the positive benefits.
The Development Consent Order application for North Falls Offshore Wind Farm is expected to be submitted to the Planning Inspectorate in 2023.
The operational 504MW Greater Gabbard Offshore Wind Farm is a 50:50 joint venture between SSE Renewables and RWE Renewables and has been in operation since 2012, generating enough low-carbon renewable energy each year to power the equivalent of over 400,000 UK homes. SSE Renewables operates the offshore wind farm of behalf of the joint venture partnership.
When originally developed it was a pioneering project for the UK offshore wind industry and for many years the existing 140-turbine site was the largest wind farm under development world-wide.
About North Falls wind farm
Location
Off the East Coast of England
Ownership
50:50 SSE Renewables and RWE Renewables
Proposed MW capacity
504MW
Status
Scoping