Seagreen Offshore Wind Farm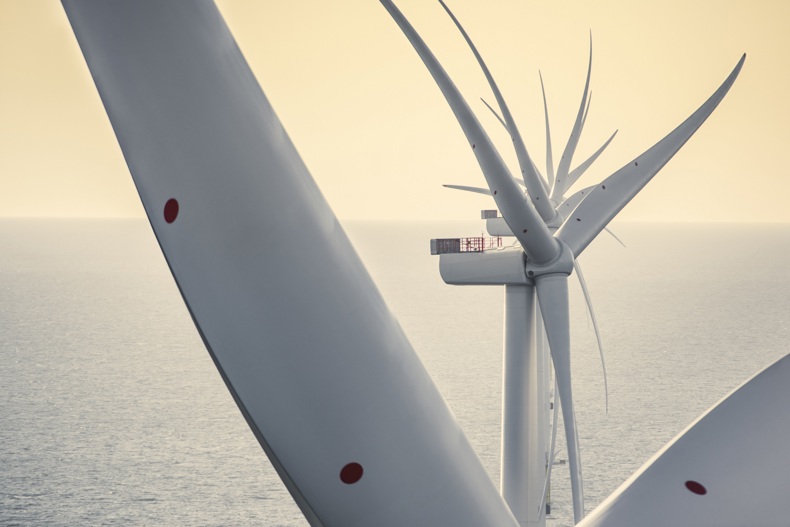 The 1,075MW Seagreen Offshore Wind Farm project is located 27km off the coast of Angus in the North Sea firth. A £3bn joint venture between TotalEnergies (51%) and SSE Renewables (49%), Seagreen will be Scotland's largest and the world's deepest fixed bottom offshore wind farm when complete.
The Seagreen 1 project secured a 15-year CfD contract in 2019, for 454MW. The project reached Final Investment Decision on 3 June 2020 and will built out to 1,075MW capacity (114 turbines).
Seagreen will provide enough green energy to power more than 1.6 million homes, equivalent to two-thirds of all Scottish homes. Seagreen will displace over 2 million tonnes of carbon dioxide from electricity generated by fossil fuels every year – similar to removing more than a third of all of Scotland's annual car emissions and making a significant contribution to Scotland's net-zero ambition by 2045*.
SSE Renewables is leading the development and construction of the joint venture project, supported by TotalEnergies, and will operate Seagreen on completion. First power is expected by Q3 2022 with the offshore wind farm expected to enter commercial operation in Q2 2023.
Delivering economic benefit
Seagreen is delivering significant economic benefit to Scotland and the UK. The low carbon project is powering a green, economic recovery and supporting high value green jobs in Scotland, including direct, contractor and supply chain roles.
Seagreen is supporting up to 141 skilled jobs at Global Energy Group's Port of Nigg in Tain near Inverness, Scotland associated with the marshalling, storage and logistics for 114 wind turbine foundations destined for the offshore wind farm.
Foundation installation at Seagreen will commence in the second half of 2021 and last for a period of around 12 months. After jacket foundations are installed, Vestas V164-10 MW turbines will be positioned on each of the 114 bases.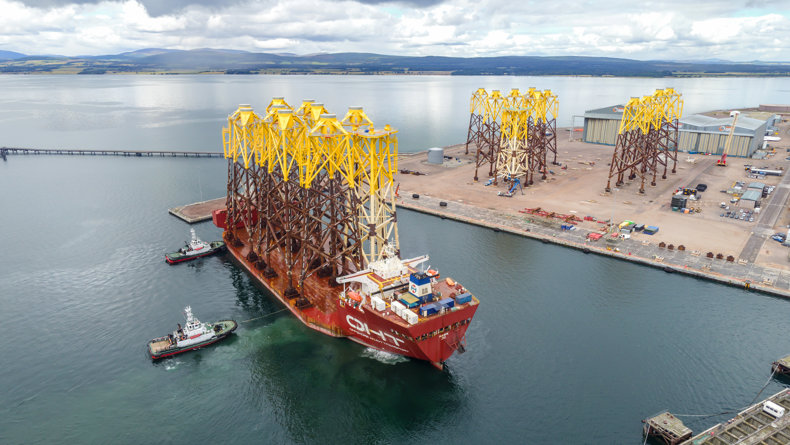 The 141 peak construction jobs include work for 93 permanent roles already on-site as well as the creation of an additional 48 new roles which have been recruited at the port, delivering a green jobs boost to the Scottish Highlands.
Up to 30 new jobs have been created with local Angus contracting firm Pert-Bruce on the construction, currently underway, of the Seagreen Operations base at Montrose Port. Pert-Bruce is committed to having around 10% of its total workforce as apprentices, including apprentices who are on-site for Seagreen with the Pert-Bruce construction team.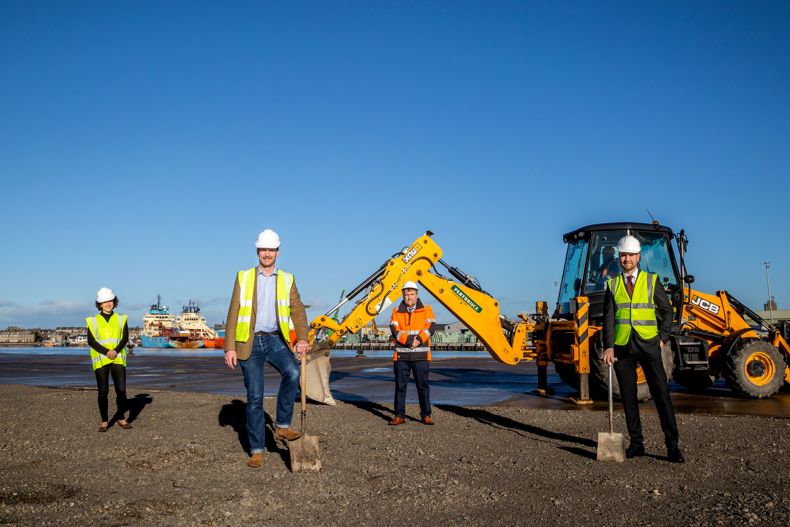 Once Seagreen is commissioned, the Operations and Maintenance (O&M) base in Montrose will be home to approximately 80 full-time (direct) operational roles including up to 60 Vestas personnel working to maintain the turbines both from the O&M base and on offshore service operations vessels.  There will also be a significant number of indirect roles and specialised contractors supporting Seagreen and the O&M base throughout the lifecycle of the wind farm.
Supply chain opportunities
Seagreen is one of the largest construction projects ever undertaken in Scotland, bringing a wealth opportunity for businesses of all sizes across a wide range of disciplines and is supporting a significant number of jobs during construction.
The project's owners, SSE Renewables and Total, and the project's Tier 1 suppliers, aim to utilise as many local, Scottish and UK based suppliers where reasonably possible during all stages of the development.
Once the offshore wind farm enters commercial operation, there will be significant opportunities for the Scottish and UK supply chain to benefit throughout the long-term operational phase which is typically for 25 years.
About Seagreen wind farm
Location
Located in the Firth of Forth, Seagreen is at its nearest point over 27km from the Angus Coastline.
Ownership
SSE Renewables (49%) and TotalEnergies (51%)
Proposed MW capacity
1075MW
Contact details
pauline.allison@sse.com / 07880 180 662
Status: (Updated below)
Onshore construction works are progressing well from landfall at Carnoustie along the 19km underground cable route to the new Seagreen substation at Tealing. The Operations & Maintenance base at Montrose is on target for completion by the end of 2021. Jacket installation commenced in October 2021 with first power expected during Q1 2022.
Website link:
www.seagreenwindenergy.com
Twitter:
@SeagreenWind 
*1.62 million homes powered per annum based on Typical Domestic Consumption Values (Medium Electricity Profile Class 1, 2,900kWh per household; OFGEM, January 2020), typical 50% wind load factor, and projected installed capacity of up to 1.1GW. Two-thirds of homes in Scotland based on Household Estimates Scotland 2019 (National Records of Scotland, June 2020). Quoted 2.23m t/CO2 reductions per annum based on expected annual output against average 446 t/CO2 per GWh (BEIS Digest of UK Energy Statistics, July 2020). Quoted removal of cars based on projected annual carbon abated and calculated against recorded average of 5.89m t/CO2 by cars on roads in Scotland in 2017 (Carbon Account for Transport 2019, Transport Scotland).
Onshore construction works are progressing well from landfall at Carnoustie along the 19km underground cable route to the new Seagreen substation at Tealing with all cables now laid. The Operations & Maintenance base at Montrose Port is fully constructed. Jacket installation commenced in October 2021 with first power expected during Q3 2022.