Back to overview
Statement: SSE Renewables remains committed to delivering Arklow Bank Wind Park II23 May 2023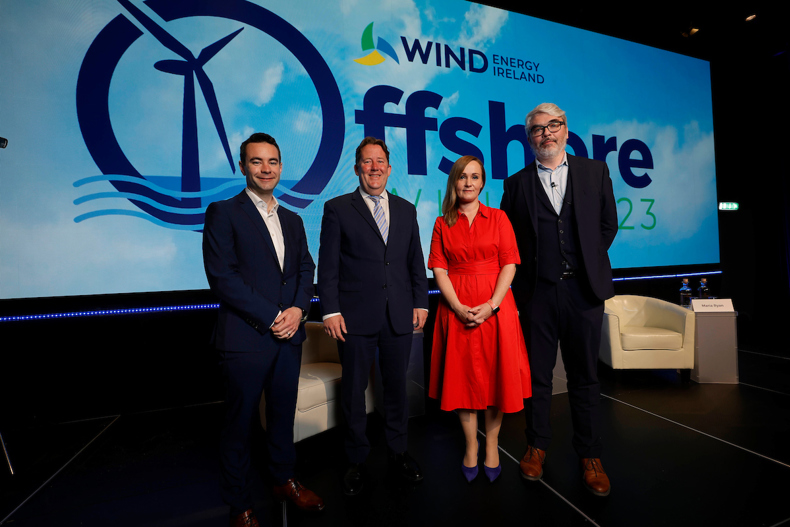 (Left to right) Noel Cunniffe, Chief Executive of Wind Energy Ireland, Darragh O Brien, Irish Minister for  Housing, Local Government and Heritage, Maria Ryan, Director of Offshore Development of SSE Renewables and Justin Moran, Director of External Affairs, Wind Energy Ireland.
Speaking at the Wind Energy Ireland Offshore Conference last week, Maria Ryan, Director of Offshore Development of SSE Renewables, commented on the recent ORESS auction.
"The results of the ORESS auction was a momentous occasion in the storybook of offshore wind in Ireland, and many years in the making. It provides certainty not only for the successful projects but also the supply chain, investors and the industry.
"While we are disappointed with the auction result, Arklow Bank Wind Park II is a hugely important project in our offshore pipeline, and we remain committed to its delivery.  
"We are now taking time to assess the outcome of this result and the options available to us to secure a route to market. We believe Arklow Bank, as one of the most progressed offshore developments on the island, has a critical role to play in contributing to Ireland's climate action targets, to Ireland's homegrown energy security, and to the national and regional economy – and in particular, to the economic wellbeing of County Wicklow and North Wexford. It's also well placed to deliver on our more immediate goals, and supporting the State to secure 5GW of connected offshore by 2030.  
"So we will continue to progress the Arklow Bank project and work towards preparation of a planning application which we will submit later this year. With this in mind, setting the planning system up for success will be essential. Ensuring sufficient resources are in place across the planning and consenting regime to support projects to go through the process, in a fair and thorough manner, but at pace is essential.
"But we also need to look beyond this first, albeit, crucial stage of offshore development, to what comes next. We've been calling for stepping-stone targets to set a path out to our 2050 target of 37GW for some time, so while it's hugely positive to see a 20GW target for 2040 included in the Government's recent Policy Statement, we need to see more granularity on the how. 
"We now need to set out the pathway to meeting our 2040 and 2050 targets. We need clarity on Phase 2, and the enduring regime, and on how these next phases will be implemented. Key to this will be maximising confidence and competition, and in future-proofing our policies to enable innovation.
"We have the opportunity now to push ahead and set Ireland up for success so we can deliver on our long-term climate ambition. Let's not waste a moment".