Back to overview
Ossian floating offshore wind farm launches brand at official opening of Glasgow Office12 May 2023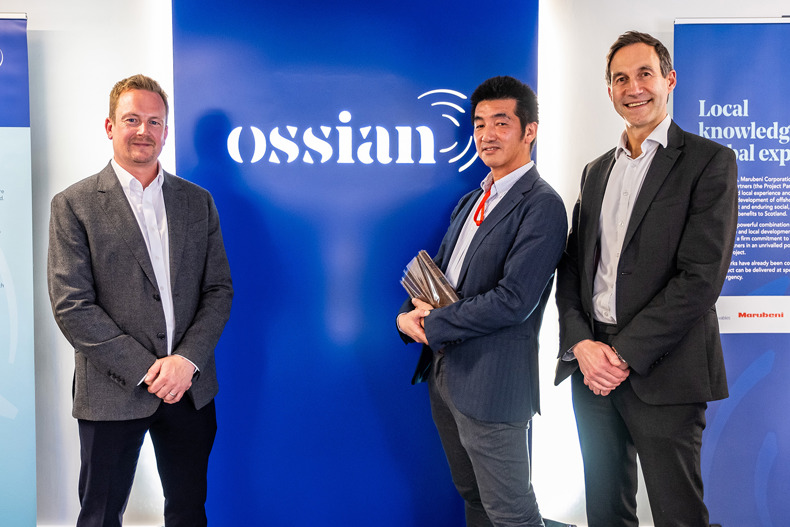 Stakeholders from the offshore wind and energy industry were invited to the project office of one of Scotland's most exciting new floating wind projects for the launch of its new brand.
The reception was an opportunity for the partners behind Ossian Offshore Wind Farm Limited (Ossian) – SSE Renewables, Marubeni, CIP – to unveil the project's new logo and to welcome colleagues from the respective businesses and renewable energy industry to their offices in   Glasgow city centre at Bothwell Street.
Designed by employee-owned creative consultancy Emperor, the new logo and brand are evocative of the project's relationship with the sea and the historic series of books after which the project is named, "The Poems of Ossian" depict the epic quests and battles of a third-century Scottish warrior leader, following his adventures across rolling seas.
Ossian Senior Project Manager for partner SSE Renewables, David Willson said:
"Along with our partners, we wanted a brand that reflected our innovative outlook and the scale of our ambition. We're very happy with the result and hope that as we continue our journey towards building one of the world's biggest floating wind farms, our branding becomes instantly recognisable."
Tomoki Nishino, President & CEO from Marubeni Europower said:
"We are proud of our international partnership and the experience and expertise that each company brings to the Ossian project. Today has been a wonderful opportunity to connect with industry peers and project stakeholders; a day which marks an early milestone on our way to completion of a world-class renewables energy asset."
Ossian Development Lead, Holly Cartwright, from CIP said:
Along with our project partners, we're delighted to showcase our new brand and to officially open the Ossian project office. We are ready for the challenge ahead of us and look forward to welcoming stakeholders and suppliers to Glasgow, to progressing Ossian towards completion, operation and ultimately to playing an integral role on the journey to net zero."
About Ossian
Ossian is the proposed new offshore wind farm across 858 km2 of seabed in waters off the east coast of Scotland. The project's ultimate aim is to help achieve net zero and when complete, the wind farm will deliver up to 3.6GW of capacity to power almost 6 million homes annually.
Ossian will be a critical project and will provide a significant proportion of the renewable energy capacity we need to meet government ambition and help us reach net zero.
About the partners
The SSE Renewables-Marubeni-CIP consortium has unrivalled local and global experience as well as unparalleled technical and environmental expertise, making it uniquely placed to deliver new offshore wind in Scottish waters.
Perth-headquartered SSE Renewables already has an impressive track record in Scotland, including the country's largest offshore wind portfolio and is building more offshore wind energy in the world right now than any other company. It includes the 1.1GW Seagreen Offshore Wind Farm, approx. 27km from the coast of Angus in the North Sea, which will be Scotland's largest, and the world's deepest, fixed-bottom offshore wind farm when complete in 2023.
Marubeni owns stakes in power projects across 21 countries (including Japan) for a total net capacity of about 12GW. For Ossian, Marubeni brings a wealth of sector experience of delivering floating offshore wind, including leading floating offshore wind demonstration projects in Japan with five different floating foundations.
Founded in 2012, CIP today is the world's largest dedicated fund manager within greenfield renewable energy investments and a global leader in offshore wind. CIP has an international footprint with vast experience of delivering offshore wind across continents. In the UK, CIP's exclusive development advisor, Copenhagen Offshore Partners, is developing the 100MW Pentland Floating Offshore Wind Farm.
These capabilities and commitments, coupled with a combined worldwide development portfolio of more than 27GW, demonstrate the SSE Renewables-Marubeni-CIP partnership's extensive and successful track record of delivery in offshore wind, both locally and globally.