Back to overview
First wind turbine blades transported to Viking Wind Farm17 Mar 2023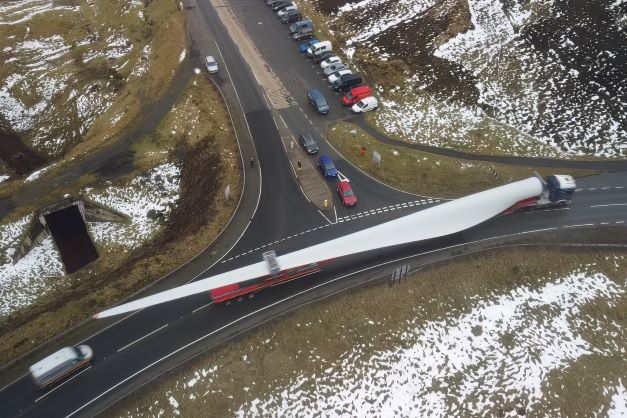 The first three wind turbine blades made their way from Lerwick Port to the Viking Wind Farm in Shetland today.
Vestas, which is supplying the 103 wind turbines which make up the wind farm, is responsible for safely managing the process of getting the wind turbine blades and other components from their factories to Lerwick and then delivering them from there to the Viking site.
"Now that the period of extreme weather has passed, I'm pleased to say that the first turbine blade convoy was able to make its way to site this afternoon. It went to plan thanks to the continued expertise of McFadyen's Transport Ltd and the wider supporting team.

With the help of specialist Police Scotland officers who escorted the loads, the journey was completed safely and with the minimum of disruption to road users"

Robert Yeates

Lead Project Manager with Vestas
"Delivery of the first turbine blades marks yet another significant moment in the construction of Viking Wind Farm.

It was particularly impressive to watch the first turbine blades being transported to site and, again, we would like to thank all those involved in the delivery process. It is their excellent co-ordination which continues to ensure that road users' journeys are not significantly impacted.

Erection of the first turbine sections at the Viking Wind Farm site is now underway. The wind turbine component convoys are expected to conclude in July at the latest."

Aaron Priest

Stakeholder Manager for the Viking Wind Farm
Convoy timing details
There are up to three convoys per day, 6 days a week (Mon – Sat) with up to four wind turbine components per convoy.
Convoy travel time is estimated to be around 1 hour from leaving the port to entering the site.
The times the convoys leave the port on weekdays (Mon-Fri) are between:

6am – 7am
11am - 12noon
1pm – 2pm
The times the convoys leave the port on Saturdays are between:
6am – 7am
10am – 11am
12 noon – 2pm
The timings of the movements have been planned to seek to ensure that the early morning convoy will be off the public highway by 8am and the mid-afternoon convoy will be off the public highway by 3pm to avoid the relevant peak travel periods.