Back to overview
SSE Renewables Contributes £1.5m to Power Change for New Fort Augustus Housing Project09 Nov 2021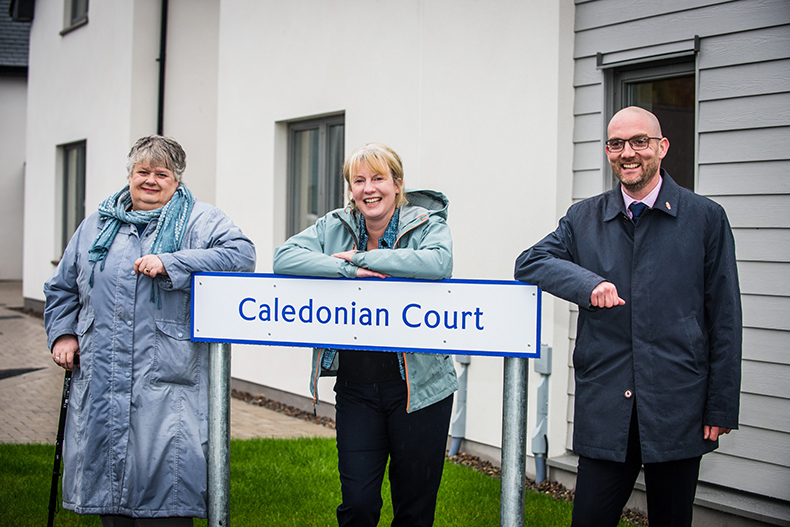 (left to right) Harry Whiteside, Chair of Fort Augustus and Glenmoriston Community Company; Shona Robison, Cabinet Secretary for Social Justice, Housing and Local Government; and Stuart Hood, Chair of Stronelairg Wind Farm Ltd and Head of Onshore Wind O&M for SSE Renewables
A new £3 million social housing project, built by the Fort Augustus and Glenmoriston Community Company (FAGCC), has been opened by Shona Robison, Cabinet Secretary for Social Justice, Housing and Local Government.
The twelve new homes for local families have green energy technology at the heart of their design and were built with a significant amount of funding from local wind farm community benefit funds, including £1.2m from the Stronelairg Wind Farm community fund.
Stuart Hood, Chair of Stronelairg Wind Farm Ltd, and Head of Onshore Renewables O&M at SSE Renewables, said: "Both SSE Renewables and Stronelairg Wind Farm Ltd are proud to be the principal funders of this incredible project.
"We recognise that there is a significant need for affordable housing in the area and to enable delivery of the project, it made perfect sense to make sure that the Community Company could draw down additional years funding from the Stronelairg community fund.
"The completion of the houses, particularly during the pandemic, is a real credit to the drive and determination of local people, and we are delighted that the properties will provide a lasting legacy for the community for many years to come."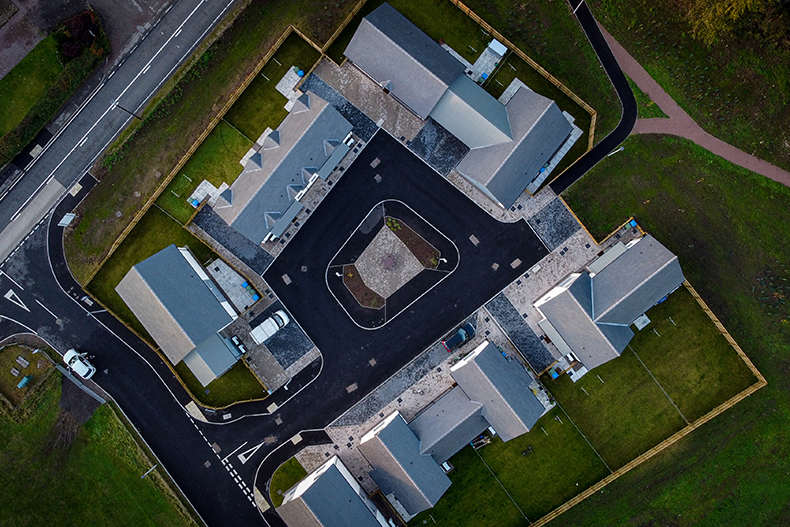 About the project
In 2019, the Community Company identified a lack of affordable housing for locals as a major issue for the area. They purchased land in the heart of Fort Augustus and drew up plans for homes that would be economical to heat.
Locally sourced stone from an adjacent borrow pit was used to cut down on transport costs and emissions. Longer lasting materials have been used to cut down on maintenance and replacement to reduce waste. The development includes cycle stands to encourage active travel and grounds landscaped with over 500 trees and shrubs including fruit trees and soft fruits.
With a total investment of more than £3 million, the Community Company secured an impressive funding package to ensure the project would go ahead. This included a grant of £970,000 from the Scottish Government; more than £1.5m from SSE Renewables (including £1.2m from Stronelairg Wind Farm Ltd, operated by SSE Renewables, £238,000 from the SSE Renewables Bhlaraidh community fund and £115,000 from the SSE Renewables Sustainable Development Fund in Highland); £100,000 from Beinuinn Wind Farm Community Benefit; a loan, funded by Falck Community Benefit via the Royal Bank of Scotland of £150,000; a Social Investment Scotland grant of £125,000; and a loan from Social Investment Scotland of £125,000.