Scotland's first 'Solar Meadow'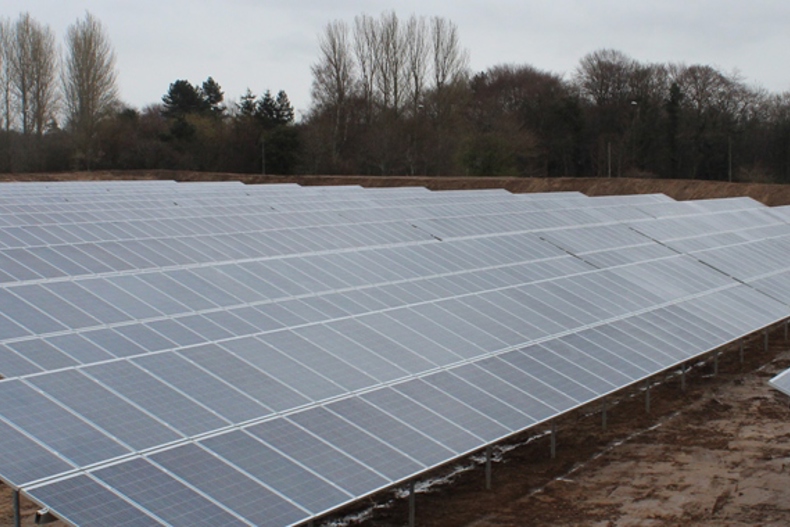 A five acre site at Edinburgh College's Midlothian Campus has been transformed into Scotland's first 'Solar Meadow'.
The innovative £1.2m construction project has seen more than 2,500 solar panels installed on the site and planted with biodiverse grasses and wildflowers.
The Solar Meadow  - designed and installed by SSE - will generate the equivalent of the electricity required to power the campus, effectively reducing its carbon emissions by 300,000 kg per annum.
Engineering students at Edinburgh College will also be able to use the site as an outdoor classroom. Interacting with the panels will allow students to develop key skills in demand from Scotland's growing renewable energy sector.
Richard Chandler, SSE's Head of Green Deal and Energy Solutions, added: "As the UK's largest generator of electricity from renewable sources, it made perfect sense for us to be involved in this project, which is the first of its kind in Scotland.
"Not only will the Solar Meadow generate around 560,000 kWhs every year – enough electricity to power 170 homes – but it is also a fine example of how industry and education can work well together. This project will bring benefits to the college, its students and the wider community as well as further strengthening Scotland's renewable energy resources."
Alana Beaton, an Engineering student from Inverness, said: "I'm really interested in renewable energy and I'm excited that Edinburgh College and SSE are leading the way with the Solar Meadow.
"We have studied renewable and green technology within the Electrical Engineering course at the College, and a great importance is placed on sustainable engineering, so the fact that the College has taken this on board and is using this technology is definitely a step in the right direction.
"I'm really looking forward to using the Solar Meadow as part of my course. I think it will further my interests within solar energy technologies and modern engineering in Scotland."