Sloy/Awe hydro power scheme
With the exception of Cruachan Power Station which was commissioned in 1965, major work on the Sloy/Awe scheme was completed by 1963, the year the Beatles had their first No 1 hit with From Me To You – and a world away from the immediate post-war austerity being experienced when Sloy Power Station was commissioned just 14 years earlier.
When it was commissioned in 1950, Sloy Power Station had almost twice the capacity of the next largest conventional hydro electric power station in the UK. It is fed by water from Loch Sloy, just four kilometres away but, crucially, over 277 metres higher than the power station. This huge difference in height within a short horizontal distance is what provides the power to produce an annual average of over 130 million units of electricity – that's about one million units for every inch of rainfall in its catchment area.
Another impressive feature of this power station is that it can be brought into service at times of peak demand for electricity and be operating at full power within five minutes. To the west of Loch Lomond lies the rugged mountain landscape of Argyll. Its many deep valleys contain the rest of the Sloy/Awe scheme – a further nine major power stations and four dams, utilising the waters flowing into Loch Awe, Loch Shira and Loch Fyne.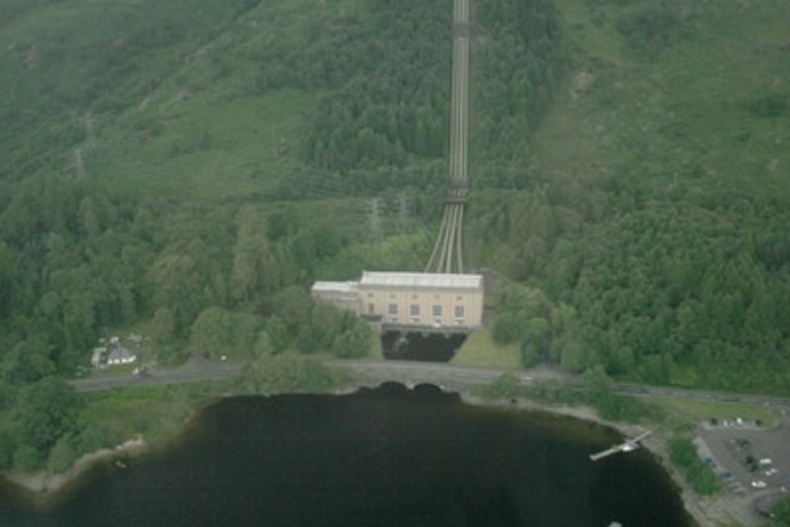 The remote and inhospitable terrain, combined with the heavy rainfall and snowfall that made the area so ideally suited for hydro electric development, made the construction of this scheme extremely challenging. Miles of access roads had to be built and work was frequently halted by poor weather.
Perhaps an attempt to avoid the extreme weather was another reason that Clachan Power Station on the shores of Loch Fyne was the first power station to be built underground by NoSHEB.
Another first for this scheme was Alt-na-Lairige Dam, built to form a storage reservoir for the power station downstream. The dam is 425 metres long and 24 metres high. It was the first pre-stressed dam to be built in Western Europe, being anchored to its rock foundations by high-tensile steel rods.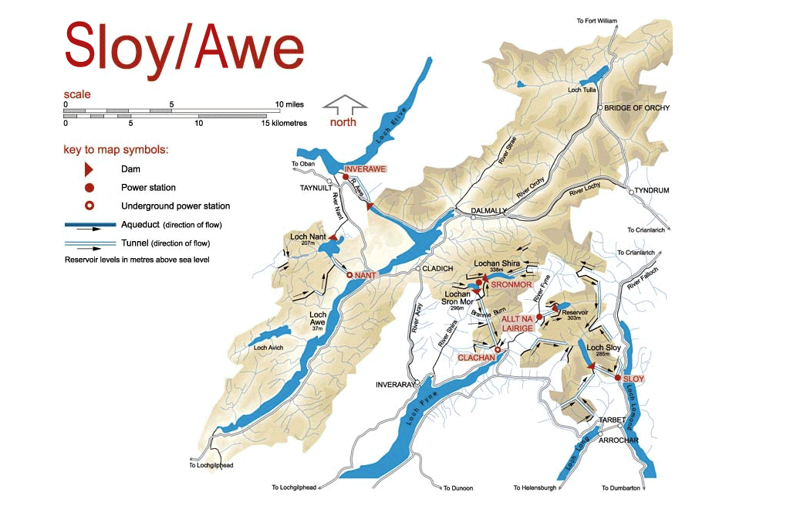 Power stations
| | | | | |
| --- | --- | --- | --- | --- |
| Power stations | Capacity (MW) | Gross head (metres) | Average annual output (million units) | Year started |
| Sloy | 152.5 | 277 | 130 | 1950 |
| Sron Mor | 5 | 46 | 7 | 1957 |
| Clachan | 40 | 294 | 82 | 1955 |
| Allt-na-Lairige | 6 | 249 | 19 | 1956 |
| Cruachan* | 440 | 365 | c700 | 1965 |
| Nant | 15 | 172 | 36 | 1963 |
| Inverawe | 25 | 36 | 106 | 1963 |
| Kilmelford | 2 | 111 | 12 | 1956 |
| Loch Gair | 6 | 109 | 19 | 1961 |
| Striven | 8 | 123 | 22 | 1951 |
| Lussa | 2.4 | 116 | 9 | 1952 |
*No longer owned by SSE Renewables
Major dams
| | | | | |
| --- | --- | --- | --- | --- |
| Major dams | Type | Length | Height | Completed |
| Sloy | Massive buttress | 357 | 55 | 1951 |
| Allt-na-Lairige | Pre-stressed gravity | 425 | 24 | 1956 |
| Shira (main) | Round headed buttress | 725 | 45 | 1959 |
| Shira (lower) | Concrete gravity and earth fill with concrete core | 305 | 18 | 1956 |